I never liked Thanksgiving as a kid. My parents were divorced and I never spent Thanksgiving with my dad. Which I suppose was fair since I spent Christmas with him until I was about 15 and then with both of my parents again. Anyways, I always thought Thanksgiving was a stupid holiday. Since I spent it with my mom, we would have Thanksgiving at her house and then we'd go visit her extended family and she'd try and force me to wear a dress using peer pressure and trying to convince me that my cousin Stephanie aaaaaalways wore a dress. Until the year she didn't.
Anyways, I didn't start really enjoying Thanksgiving until I was a teenager and my parents' relationship changed. As an adult, I like it a lot. It marks the beginning of the holiday season. And more importantly, the season of pie. I love making pies. They are easy and I have had more success making pies than cake. Every year, I try to make 3 or 4 pies for Thanksgiving. This year, since we'll be in Chicago for Thanksgiving, I won't be making pies. I did, however, get to make one for a little get together we went to this weekend.
Paul's friend from work, Frank, had a 25 lb turkey. I'm not sure WHY he had the turkey, but he did. He wanted to smoke it. I don't know that I've ever had a smoked turkey until yesterday. It was delicious, by the way. Since we were invited, I whipped up a pie. It was basically an early Thanksgiving dinner and was delicious. Here is my standard go to pie for many occasions. It was given to me by someone at work whose mother has been making this pie for years. It takes about 10 minutes to prepare and could be eaten right away, although I prefer to refrigerate it for a few hours.
Banana Split Pie
1 (8oz) cream cheese (softened}
1 cup powdered sugar
1 teaspoon vanilla
1 prepared graham cracker crust
1 (8oz) can crushed pineapple (drained)
2 medium bananas (sliced)
1 (8oz) tub of Cool Whip
12 Maraschino cherries (halved)
Beat cream cheese, powdered sugar and vanilla until smooth. Spoon into crust.
Layer pineapple, then bananas. Top with Cool Whip and cherries. Refrigerate at least 2 hours before serving.
And here are some pictures of the pie assembly.
Cream cheese layer: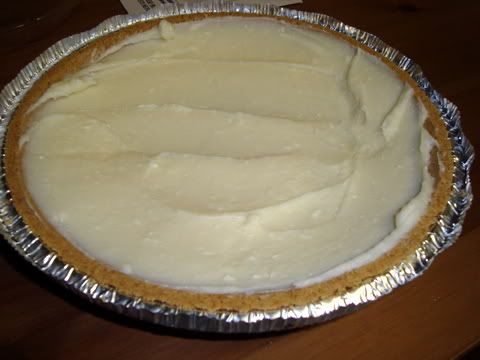 Pineapple layer:


Banana layer: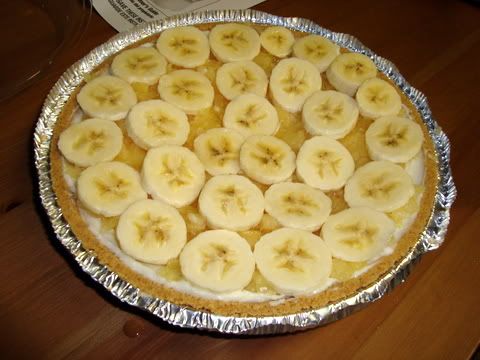 cool whip layer: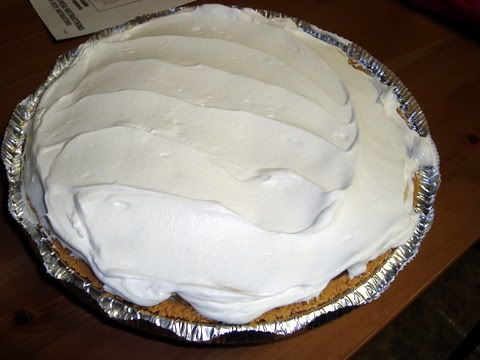 Final product: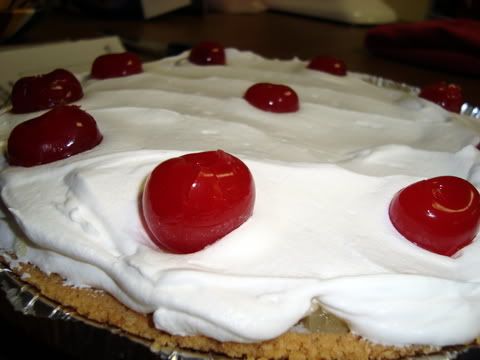 Let me know if you try the pie!