I cannot believe it's the end of October. Ryan will be HALF A YEAR old in 11 days. I can't believe how fast he's growing! My little boy is currently in his walker in our kitchen talking to his reflection in the dishwasher. We have our 6 month photo session next weekend! My, how he's grown!
Here's Ryan in his giraffe costume and me dressed like a pediatric surgeon (yes I am that specific) at my work's Fall Festival. I work for a large arts & crafts retailer, from now on known as Large Arts and Crafts Retailer since I'm pretty sure it's against our policy to specifically name the company. Anyways, they're good at festivals and such.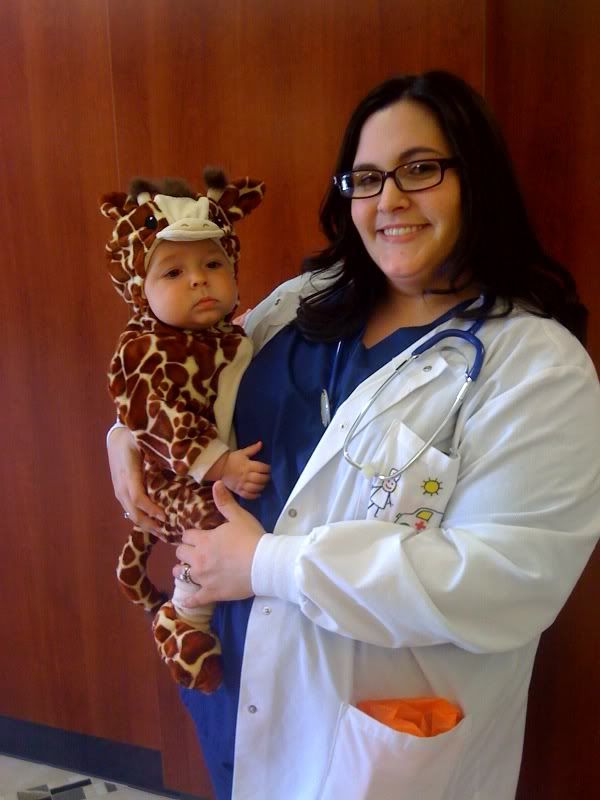 Ryan looks tired and annoyed because he was woken up from a nap and was ready for a bottle. Plus, all the loud music, people gawking and touching him was a bit overwhelming. Even though time is flying by, I am very much looking forward to the next couple of months.
In about three weeks, we're taking a road trip to Chicago to visit our family and friends. While I'm a little nervous about the prospect of taking a 6.5 month old on such a long trip, we plan on stopping in Memphis and I'm excited since I've never been. Plus I know once we get there, we'll have a great time and I miss Chicago. We will get home 2 days after Thanksgiving which means that we can break out the Christmas decorations!
Oddly, on my busiest year to date (what with having a baby and all), I am already 95% DONE Christmas shopping! I have two more gifts to buy and then Paul and I will shop for each other. It was pretty easy since I am a genius and started deferring some of my paycheck to a separate checking account. So I've been having a lot of fun being able to shop and not feel like I'm draining our account. It also made it a whole lot stressful this year. The only two people I have left to buy for are Paul's dad and Paul's sister's boyfriend (probably soon to be fiancee). Next, we get to decorate and bake cookies and enjoy our growing boy through the holidays! I'm doubtful that we'll do Christmas cards this year. With stamps being nearly 50 cents a pop plus the cost of cards, it just seems like a waste. For the record, I love Christmas cards and enjoy receiving them. I just don't enjoy paying $20 for cards and then shelling out another $20 in stamps. We'll see.
Coming up: My Day in the Life Project. I've been working on this for my internet group of friends and it's taking forever. I've gotten to see the life of a reporter for the Chicago Tribune, a stay at home mom to 5 (FIVE!!) boys, a first time mom in Michigan and several others. It's so fun to see how different we all are, yet have so much in common. I intend to post mine here as well, so be on the lookout for that hopefully sometime in the next week!