I've always known I wanted children. At least two. After Ryan was born, I went through a period that I think most moms go through, the "What have I done...I'm never doing this again" period. My husband was ecstatic. It took him awhile to come around to the idea of one child, and he definitely didn't want any more. Since I'm out of my postpartum baby blues haze, I've realized how much of a blessing Ryan is, and I'm back to my old self, which means BABIES!! I am extremely close with my brother and I think siblings are important. So while I'm already planning when I'd like to conceive #2, Paul is still in the "hell no" place. When I started thinking about a new car seat for Ryan, it just so happened that
Babies R Us
was having a great trade in event. Trade in any used car seat, crib, bassinet, stroller, etc and receive 25% off of a new car seat, crib, whatever. I told Paul we should trade in Ryan's infant seat for a convertible one. And then the unimaginable happened. Paul said to me, "Why would we trade in the infant seat if we could use it for baby #2". This was a miracle. Now, while he still doesn't really want another one, I can see that the remote possibility is there. And that excites me. No more babies for awhile, but the possibility is there!
After lots of researching, I decided to go with the Evenflo Triumph Advance 65 car seat. Its now perfectly installed in the center of my backseat thanks to my awesome husband. I'm a little nervous about trying to get Ryan in it in the mornings when we're rushing out the door and in the late afternoons when its peak crankiness time, but I think it'll be okay. I noticed in the weekly Target ad that the Britax Roundabout 50 was on sale for $100, which is a great price for a Britax, but the only not-girl print Roundabout they have is "Cowmooflage"which is horrible. Its awful. And after researching, I really think the ETA65 is the best choice for us. And we got a great deal at BRU. We decided to keep the infant seat for our unconceived baby #2, but we had a bassinet to trade in. The best part was that the bassinet was bought for $15 at a garage sale and ended up saving us about $35 at BRU. Here's Ryan enjoying his new ride in our living room before we installed it: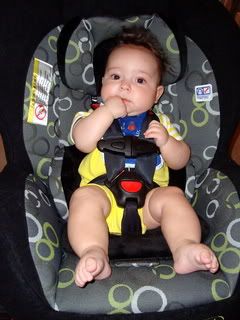 I feel like this has been a long weekend, and we still have a whole day off before going back to work. I have no idea what we'll do tomorrow, but I do know that the days of 3 day weekends spent in bed watching movies and tv without showering are long gone.
Also exciting: Ryan is trying rice cereal for the first time tomorrow! I am nervous and excited and kind of sad that he is growing up so fast! He will be 4 months old in 5 more days and while I really wanted to wait until 6 months, it just doesn't seem like formula alone is cutting it anymore. Pictures to follow!
In other exciting news, football season is upon us! I love this time of year...when baseball season and football season overlap. I love fall!