So I've been away for awhile because my in-laws were in town. They've been gone for awhile now, but they were here last Thursday through mid Sunday. I love my in-laws. They're really great people and aside from being cool parents and awesome grandparents, they always re-stock our pantry!
So they got here Thursday evening and we ordered pizza. Friday, Paul and I had to work, so we left his parents with Ryan for the day. They had a great time. Paul's mom has a home babysitting gig and has been doing it for at least the last 20 years, so I completely trusted her. She's had kids from as young as 2 months old through teenagers. Friday, we came home and Paul's dad had gone to the grocery store and his mom had dinner waiting to go into the oven. It. Was. Awesome. Saturday, I took my mom to the oh so awesome sample sale that my company has for it's corporate employees. I'd rather not say what company I work for, but every month, they have a sample sale in a warehouse. The proceeds go to The Company's charity. Big shopping bags packed to the gills go for $10 and large items also are $10. MIL had a great time. After the SS, we met up with Paul, his dad, and Ryan. I went to lunch with my good friend Gina and her exchange student, Em, while MIL went with Paul to the Farmer's Market.
I guess I haven't talked much about our weekly Farmer's Market trips. We go to the
Coppell Farmer's Market
weekly on Saturdays. Over the last several weeks, we've decided to take a healthier approach to our food. Rather than shopping for the lowest price on junk that's filled with artificial ingredients, we decided we'd shell out the extra cash to know what we're putting into our bodies. So we primarily shop at the farmer's markets in the area, mostly Coppell. They have dairy, breads, pastas, ethnic foods (tamales, tortillas, chips, salsa), meats, fruits, and veggies. There are a few things we can't get there since they are all local growers, so we do still have to shop at the grocery store for some things. I've become a bit obsessed lately and really enjoy our trips. We've gotten to know some of the vendors there and I'll be sad when October comes and the farmer's market isn't there anymore until the spring.
Anyways, I had a great time having breakfast and came home to Ryan sleeping peacefully. He napped and we had intended to go to lunch once he woke up. Well, at 2:00 he was still sleeping, so Paul and his dad ran out to Chicken Express and got a late lunch. We spent the rest of the day playing together with Ryan. Saturday night, I took my MIL to
Michaels
. She is an avid scrapbooker and card maker, and I had asked her to teach me how to make an envelope book. I am not really a craftsy type of person, but I had an awesome time making this with her. It was so easy and my husband is always nagging me about getting a hobby. I think I may have found something I really like doing! Here are some pictures of the one I made for my very pregnant friend Lindsay: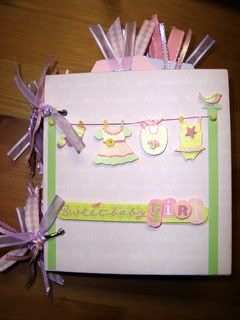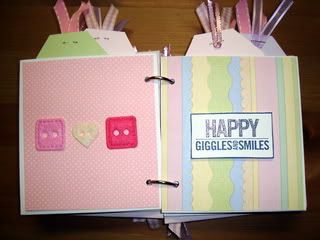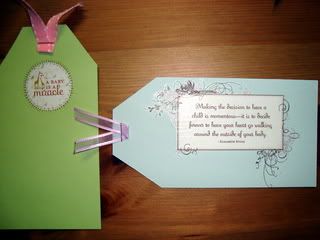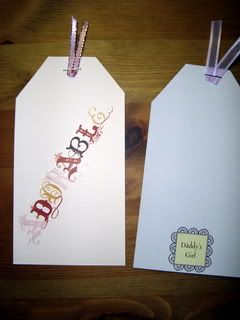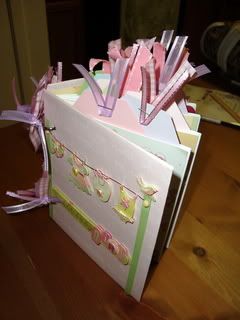 Sunday, they wanted to hit the road after lunch. We left Ryan with my mom and took them out for some yummy Texas BBQ at
Randy White's Hall of Fame BBQ
. Delicious as always. Sadly, they had to hit the road right after lunch and are now safely back in Chicago.
Anyways, that's where I've been. Things at work have been crazy and I'm looking forward to getting back into a routine so I can update more frequently!