I really really really love Christmas. Especially now that I'm a real grown up and can do whatever I want.
My husband's mom bakes hundreds of cookies each holiday season. From rum balls to thumbprints to their infamous Good Cookies, she bakes tirelessly and always has yummy cookies to serve up from the beginning of December through New Years. Me? I'm not quite as dedicated as she is. I don't typically bake because it's just a lot of work and I'm lazy. However, this weekend I made my first attempt at Cake Balls.
Long story short: you bake a box cake mix, add a vat of icing, roll into balls and dip in chocolate or another candy coating flavor. I did yellow cake with cream cheese frosting and dipped in milk chocolate candy coating. The result: delicious and ridiculously addictive.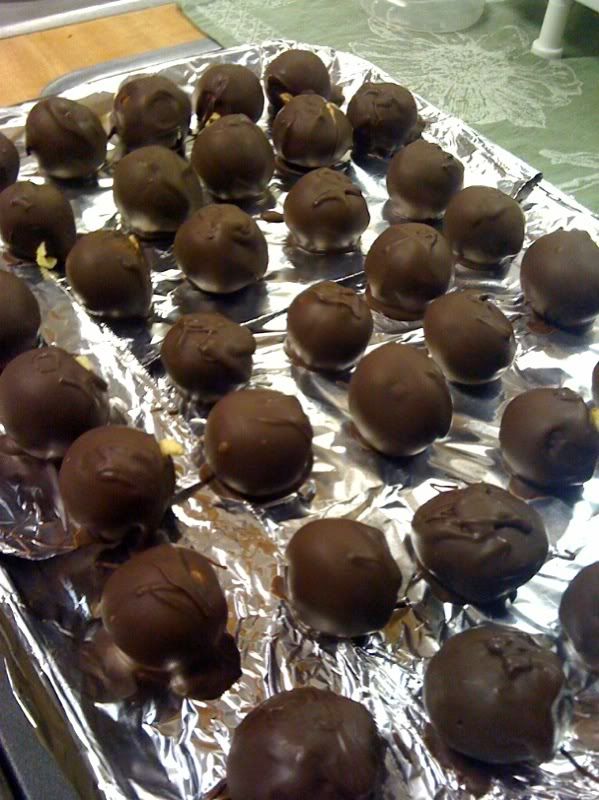 I really want to do some no bake cookies this weekend, but those are even worse for my waistline because I really CAN NOT stop eating them once I start. Yummy peanut buttery chocolatey oatmealy goodness. Who could resist?! We'll see how up to it I feel once the weekend rolls around.
Nothing new is going on except for the plague upon my house. Monday, Paul was home sick from work. I noticed Ryan's little left eye looked a little puffy and decided that if it still looked weird Tuesday morning that I was taking him to his pediatrician. Tuesday morning rolls around and I feel like death and Ryan's eye still looked funny. So to the pediatrician we went. Nothing serious. She says contact dermatitis and that he's been rubbing his little eye raw causing broken blood vessels. So I've been slathering his face in vaseline. He's practically glowing. I stayed home Tuesday as well and spent the day in bed knocked on my ass. Tuesday evening was a blur because I was miserable. I managed to drag my ass to work today and I think I feel better for it. Around 3:00, my ears popped and I magically started feeling better. Paul seems to be better too. Ryan's a little stuffy but his eye is back to normal. I had to use the ball syringe on him for the first time today and it was awful. Poor guy. Here's hoping we're all back to 100% ASAP.
My bff and her family are coming over Saturday. I am so excited to see her little one, Aiden. He's 3 weeks younger than Ryan and sadly, I haven't seen him since he was about 2 weeks old. How is that possible?! The kid is 6 months old now! We're having a little Christmas get together at my house mid-afternoon since the babies have to be home and in bed and they live kind of far away. It's going to be great to see the boys together and see how they interact.
Anyways, Christmas is next weekend and I couldn't be more excited!